The best stories have more than one hero – like this one.


It starts with TECHO, a youth-led nonprofit organization that builds real houses for families living in informal settlements across 18 countries in Latin America and the Caribbean. More than 200 million people in those areas live in poverty, many with no proper home or access to potable water, sewage, or electricity. With the help of 1.4 million volunteers, TECHO has built 135,000 homes and completed more than 700 infrastructure projects to date.

An essential part of TECHO's mission is raising awareness about the children and families who live in these settlements, in conditions that are invisible to most folks in a tech-centered world. Seeking support, TECHO contacted Unsaid Studio, a design-driven creative studio in New York City that focuses on empowering artists to tell meaningful, impactful stories. Their corporate campaign work includes Walmart's 2020 Camp initiative, SoFi stadium's video displays for the Super Bowl, and Funhouse for Lowe's.

Initially, TECHO asked Unsaid Studio to create a character for an Instagram page to help spread awareness about the organization and the children it serves. Studio cofounder and animation director Doug Bello researched TECHO's work, and, in his own words, "fell in love with their project." The studio proposed evolving the idea from a small-scale social media initiative to a more complex 3D animated short film and agreed to take on the project pro bono.


Bringing The Girl with the Dancing Heart to life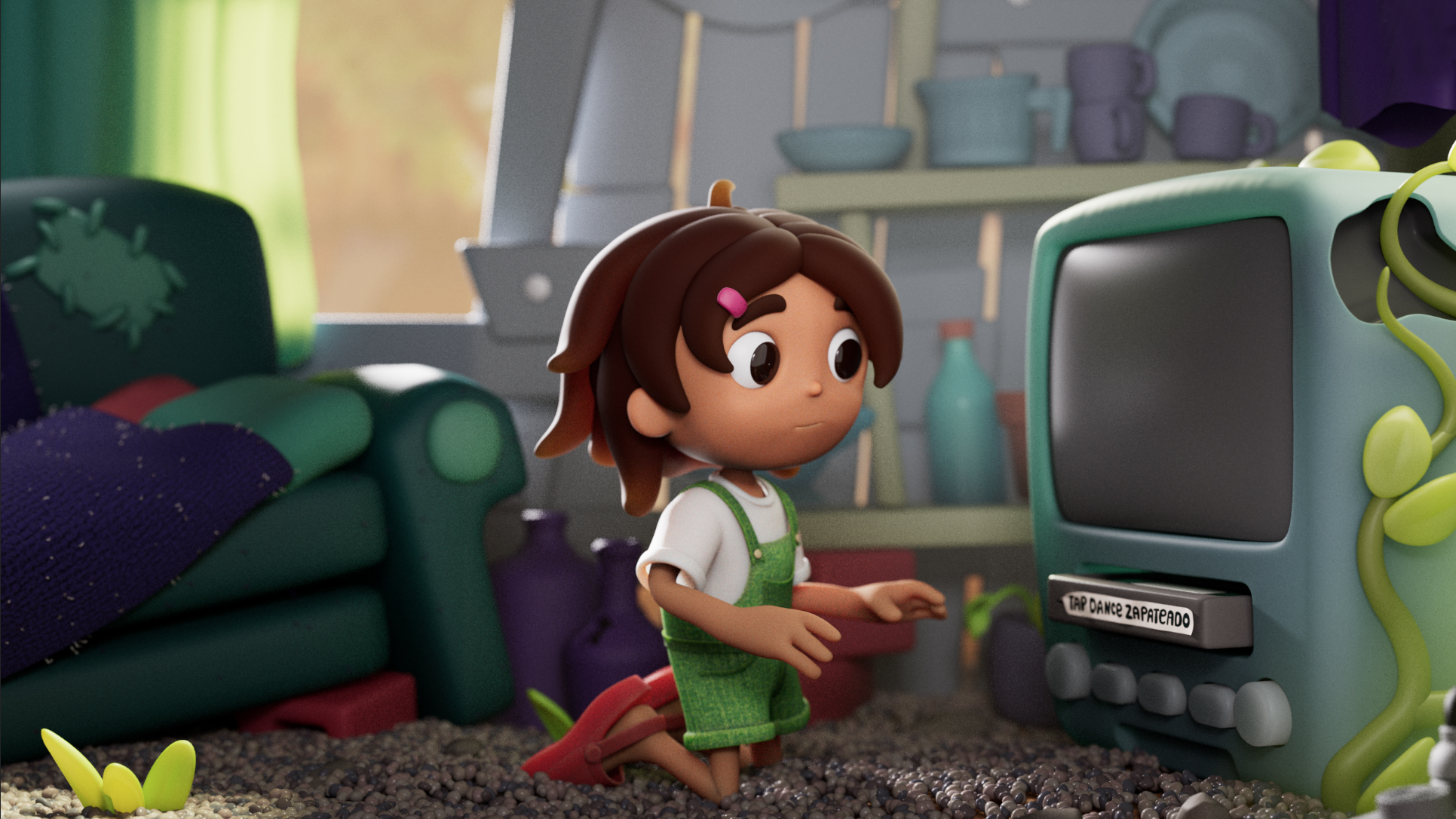 Panchita! The Girl with the Dancing Heart is an inventive short film inspired by a true story. A TECHO volunteer described the joy families express when first seeing their new homes, especially a six-year-old girl who began dancing and exclaimed, "Mama, we have a floor! We have a floor!"

This young girl sparked the story of Panchita, a little girl living in an informal settlement who hoped for a stable foundation from which to chase her dreams. Through a bit of magic and a discarded VCR, Panchita discovers Bo, a tap-dancing superstar from 1920s New York. Panchita's love of dance is kindled by her new friend, but you can't tap dance on a sand floor. Panchita's passion and creativity keep her going, but the story also demonstrates how the basic foundations of housing – like a floor – provide the support that families need to survive and thrive.

The sand became a critical part of the story, presenting a challenge not only for Panchita's dream of dancing but also for the artists who needed to create FX sand. Simulating sand that moved naturally but fit into the film's miniaturized, playful visual style was a tricky balancing act that took multiple iterations and a lot of patience. "The sand was a character itself, because it was essential to demonstrating the obstacle Panchita faced," said producer Keka Petrich. "It was important to get it right."

Bello's creative vision for Panchita's world included characters, sets, colors, and textures designed to reflect Panchita's innocence – like simple shapes and a bright visual palette – while sparking optimism and inspiring action. As the project scope grew, keeping this vision on track – throughout the full production cycle, from concept to final delivery, with multiple artists distributed around the globe – would require active communication and collaboration, not to mention organization.

To make this ambitious idea a reality, Unsaid Studio sought additional technology partners, bringing Maxon, Wacom, and SyncSketch on board. Bello is a longtime SyncSketch champion, having used SyncSketch's Education plan to review student work at Pratt University in New York, so he knew it would be invaluable for this complex project.

"Without SyncSketch, Panchita wouldn't be a movie. It's essential for keeping things organized, reviewing, and providing feedback."


Doug Bello, Cofounder and Animation Director, Unsaid Studio


Enabling real-time and asynchronous collaboration with a global team


Unsaid Studio placed a high value on hiring South American artists, sound designers, and animators for Panchita, including Petrich, who is based in Brazil. "The project has been so rewarding for everyone on the team. Especially for our artists in Brazil, who see this as a reality just walking down the street. It's very real and emotional for us," she explained.

The full team includes artists working from Unsaid's HQ in New York City and creatives in Canada, Florida, and Romania. "We're working with talent across continents, so connectivity is key," said Bello. "Syncsketch allows us to collaborate with our large team as if we were in the same room." With team members in multiple time zones, a tool to enable both synchronous and asynchronous reviews was critical to keep the project moving and meet production milestones.
"It's great to have everybody in one place, even though we're actually spread around the world. We can review content in perfect sync, and everybody knows exactly what we're talking about."


Keka Petrich, Producer, Panchita

Everything in one place


Bello and Petrich praise SyncSketch's value as an organizational tool for keeping critical production information together. Before SyncSketch, team members communicated via Zoom calls and stored media and feedback from reviews in various places like shared drives, documents, and sticky notes. Now that they have SyncSketch, it's simple to consolidate feedback, keep track of progress, and quickly check review history, like how many reviews are complete and whether something has been approved.

With SyncSketch, Petrich's team no longer needed to take valuable hours coordinating and uploading shots for review. Having everything in one place and working in real-time cut production time by 20% – over the course of a two-year project, that adds up to more than 800 hours for ideating, problem-solving, creating, or experimenting instead.
"SyncSketch helps me stay organized and focused every day. Consolidating notes is easy, which makes feedback a breeze."


Doug Bello, Cofounder and Animation Director, Unsaid Studio


Communicating ideas beyond words


Film is a visual medium, which can make communication by traditional text-based channels difficult. When team members speak different languages, the challenge only increases. "Before SyncSketch, sometimes information could get lost in translation," said Petrich. "With SyncSketch, everything centers around the image. It's a universal language, and everybody can understand that."

Rather than wasting time going back and forth because of a misunderstanding – or possibly iterating on work due to an unclear verbal description – team members can follow in sync and respond to ideas in real-time, so the work stays on track. "SyncSketch never gets in your way. The real-time sync is fast enough to scrub back and forth precisely and analyze animation frame-by-frame," Bello said, making reviews impactful and efficient.

Bello also uses SyncSketch to draw his vision or explain new animation suggestions directly over his team's work. SyncSketch's powerful brush engine is fully customizable and designed by artists for artists, making it easy and intuitive to use. "SyncSketch allows us to play. You can redraw a bit of animation directly on top of the frames, then play it back and compare to see which version you prefer," Bello explained.


Ensuring a smooth experience from start to finish


One of the biggest impediments to remote creative work is lag time. Wacom donated drawing tablets to the production, so seamless integration between SyncSketch and Wacom was critical. Wacom tablets are made to provide responsiveness, precision, pressure sensitivity, and reliability for digital creatives, but none of that matters if your review solution can't translate those qualities into your project.
"Wacom tablets and SyncSketch are made for each other. It's a perfect combination."


Doug Bello, Cofounder and Animation Director, Unsaid Studio
Getting their dispersed team of creatives started with SyncSketch was simple as well. "We never had a problem," Petrich said. "No one ever said, 'I don't know where to go or where to upload.' The whole platform is so easy to use – we just invite someone to the project, and they can log in and begin working."

The Panchita team is excited to share the finished piece with the world and bring awareness to TECHO's work. "It's wonderful having all these amazing companies like SyncSketch, Wacom, and Maxon partner with us on this project, knowing that we're all working to make a better world."

Bello agreed: "TECHO does such great work for children and people who need stable housing, and I'm still thinking about how we can help them more. How can we give people the minimum they need to go for their dreams, to be their own heroes? That's what TECHO does, and that's what Panchita is about too."