How Netflix's award-winning animated series Maya and The Three transforms production workflow from start to finish with SyncSketch

Jorge R. Gutiérrez and Sandra Equihua are the creative team behind Maya and the Three, a limited Netflix series. In a fantastical world filled with magic, a Mesoamerican-inspired warrior princess embarks on an epic quest to fulfill an ancient prophecy and save humanity from the vengeful gods of the underworld. Praised for its intricate character design and incredible power of representation in animation, Maya and The Three received two Annie Awards in April 2022, including the award for Best Animated Television Production for Children.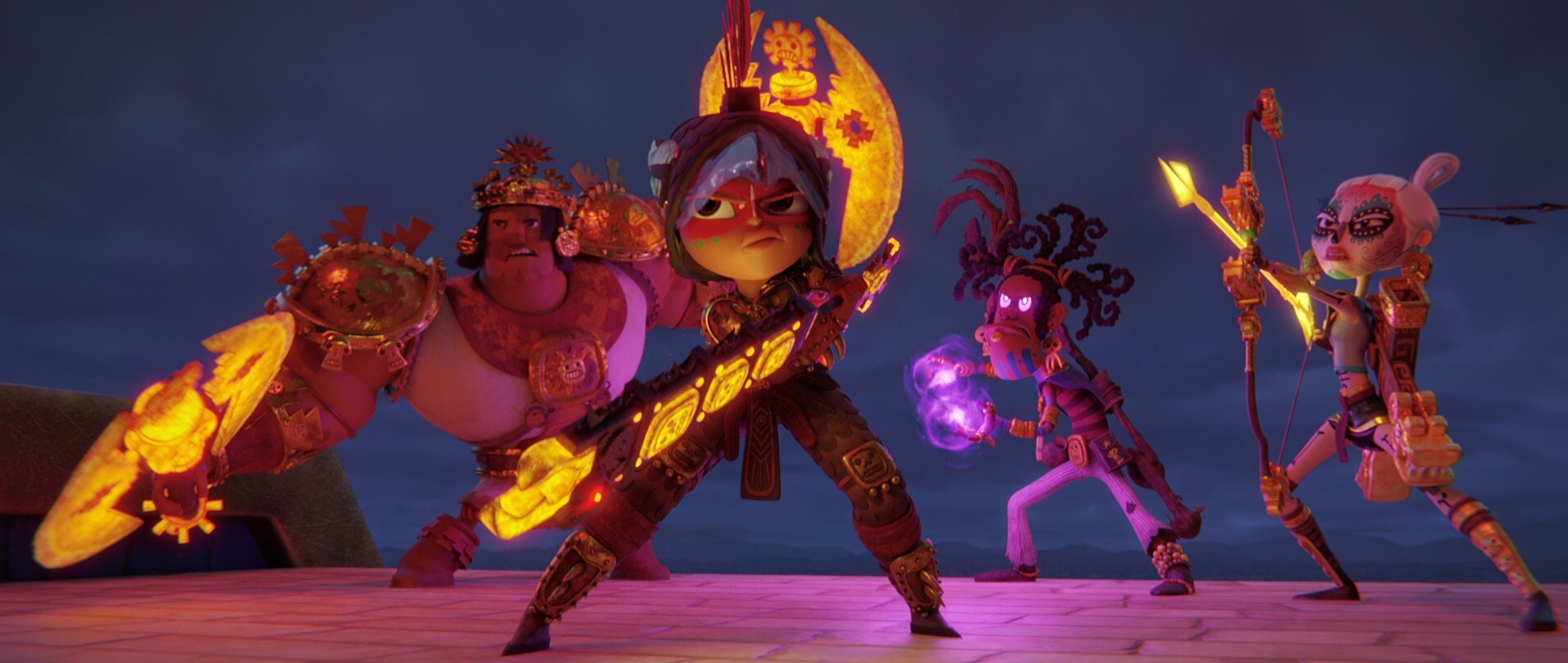 Challenge
Jorge and Sandra needed to collaborate creatively from the very inception of Maya and the Three, from ideation to pitching, and then moving through the full production process which included working remotely with external artists across global creative studios.

Sandra and Jorge were looking to:
Find a highly accessible, artist-friendly review platform that could accommodate high-resolution art, animation, and 3D models
Effectively connect creative teams scattered across various global locations to enable creative collaboration
Gain the ability to simultaneously scrub through high-quality video footage and give specific-to-the-frame feedback via annotations
Select a tool with a variety of high fidelity brushes and markup tools that would allow them the ability to provide more detailed feedback than ever before
Source a secure solution that would seamlessly integrate into the production, without the need to rebuild the pipeline. New team members needed to be able to intuitively harness it for real-time collaboration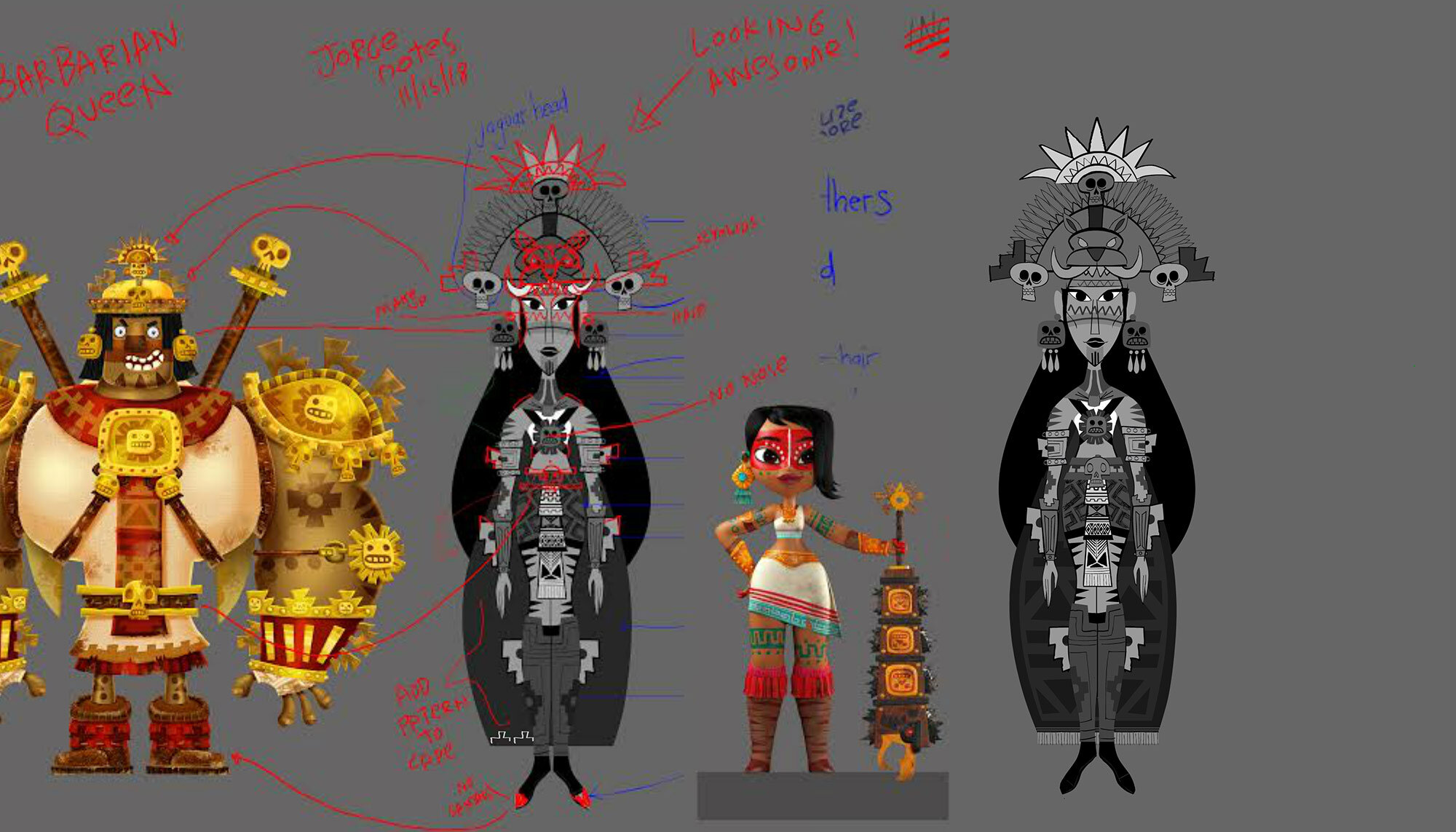 Solution
Created by artists for artists, SyncSketch is an easy-to-use, cloud-based platform that fits seamlessly into production pipelines, offering a centralized hub for the review process, no matter where you are on the globe.

The tool offers:
A native 3D Model Viewer that allows users to view and critique any model, environment, or other 3D assets in a complete 360-degree review session
A web-based review platform that makes it easy for creatives, executives, and other collaborators to connect from anywhere
A simplified interface that allows artists to give frame-by-frame feedback with drawing tools designed by animators for animators
Synchronous, high-quality playback to ensure everyone involved is viewing the same content without delay
Secure access through a browser removing the need for transferring files between reviewers, simplifying an otherwise laborious process – only select participants have access, so content remains protected

Benefit
By integrating SyncSketch into their creative process from the outset, Jorge, Sandra, and their team of designers, animators, and producers quickly discovered the value that the tool could provide:
An intuitive interface and the ability to review entire sequences in sync and in real-time, from anywhere in the world
Access to a robust set of high-fidelity markup tools created by artists with artists in mind – creatives can annotate directly on the frames to give precise frame-by-frame feedback to their artists
The ability to drawover designs and animation and then export JPEG's to send to external collaborators – even via a smartphone
Moving beyond visual collaboration, handouts for the sound team were also created in SyncSketch, allowing the ability to skip straight to where specific action events happened, or moving frame-by-frame, enabling a smoother workflow than ever before

Result
Grounding the entire workflow, SyncSketch fully integrated into the production pipeline. With creative reviews taking place in SyncSketch, the Maya and The Three team were able to save valuable hours each day that then allowed their artists to be devoted to delivering top-tier creative work. Uninhibited by physical distance, team members were able to communicate with each other, executives, and partners to move the production forward.

"I think for me, honestly, there's life before SyncSketch and there's life after SyncSketch. When I call my producer, I tell them that whoever we work with next, they have to use Syncsketch with us."



Jorge R. Gutiérrez