Remote learning has come a very long way from being considered merely an experimental method for educating students – especially in the last year, where in-person learning has not been possible due to social distancing. While tools like Google Classroom and video conferencing software like Zoom have helped emulate parts of the 'classroom feel' – the teaching or learning of animation, and other related CG media specifically is a journey of show, tell, and refinement. Over-the-shoulder feedback on scenes or projects between tutor and student are ordinarily a core aspect of teaching, and is one that is difficult to manage with the mainstream remote-learning solutions other subject teachers might use.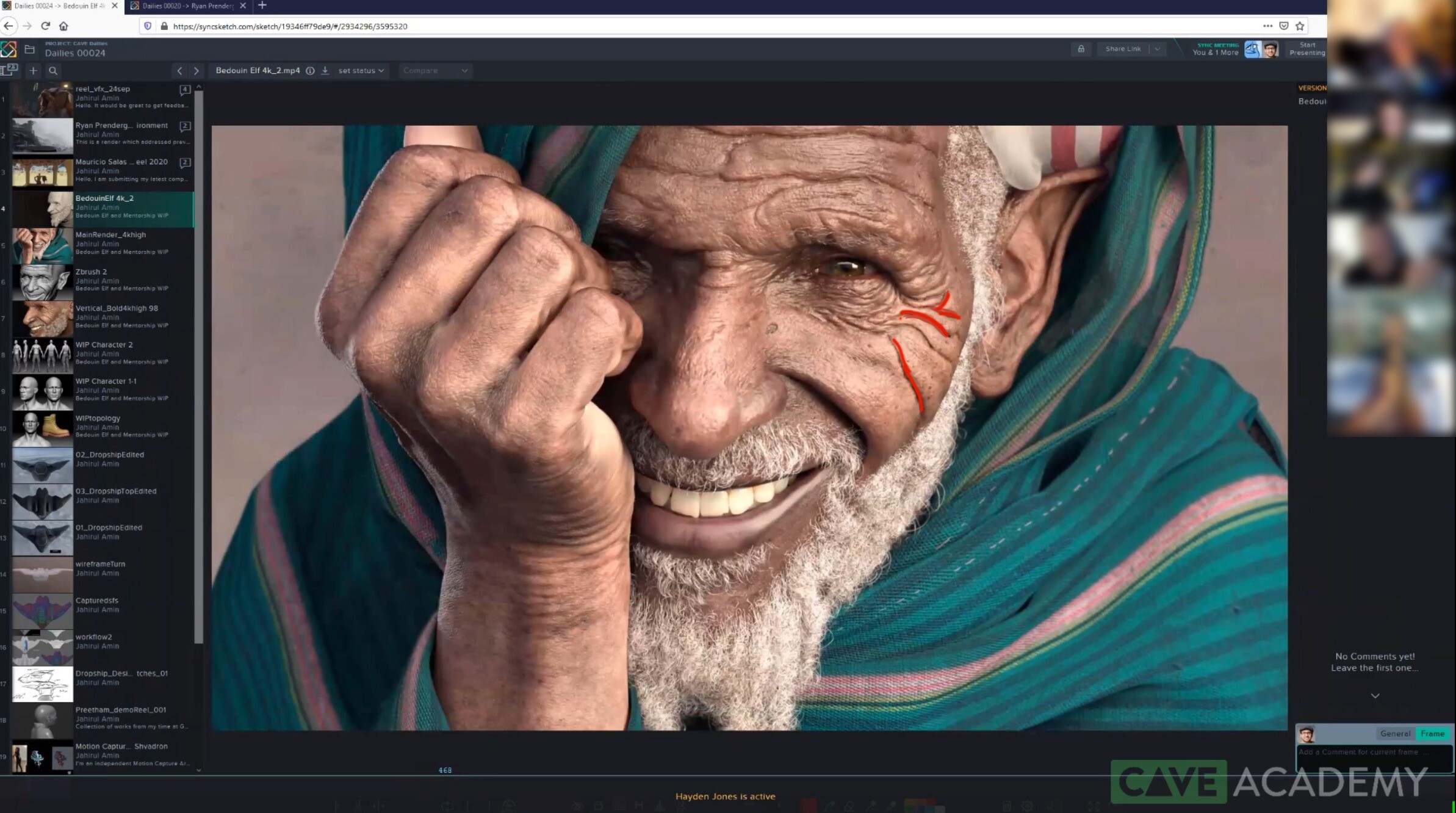 One educator tapping into how to overcome the distance in 'distance-learning', to both educate and inspire animation students, is CAVE Academy. CAVE Academy is an online provider of educational VFX and animation courses, made up of a network of 25 industry professionals with expertise in the fields of VFX, animation and games. CAVE Academy exists to inspire and nurture animation talent.
CAVE Academy founder, Jahirul Amin, describes their mission; "What we are intending to do is make this the 'go-to' academy for the creative industry. That's the long term goal: having affordable, accessible, production-orientated training for a global audience.".
This mission has been supported by technology companies such as SyncSketch, Foundry, and studios like Clear Angle, ILM, Framestore, Rebellion and DNEG. These organizations have collaborated in a number of ways, including CAVE Academy's free industry feedback sessions for students: 'CAVE Dailies'.
"CAVE Dailies has been working extremely well as students can submit some work, get industry feedback and come away with a solid direction on how to improve. We've been able to measure development in a student's work, so when they have submitted work in one month and then resubmitted in the following month, we can see a progression. That's great to see, and that's really the aim – helping people bit-by-bit, making feedback from supervisors accessible and creating connections between students and industry."

Finding A New Way of Learning
When it comes to a student learning visual effects and the accompanying technical aspects, instant critique from industry professionals can be key. From helping them understand the strengths and weaknesses in a scene or project,to getting that 'outsider view' of work from a professional's perspective.
"I find that getting and giving feedback is a great way of improving your communication skills. In many instances, we have used SyncSketch with students at universities and colleges as a way of having group discussions. The student is able to open up and explain why they have done something on an emotional and visual level," adds Jahirul.
SyncSketch has been able to provide that integral 'show and tell' aspect of classroom learning for the students of CAVE Academy. It has also enabled teachers to streamline the review time of class projects, something that otherwise can be time-consuming.
"On our journey to find SyncSketch, we found there are other solutions that allow people to submit work, but it just remains as is on the database. This can be useful, but as a review tool you will quickly find its limits. I like to draw pictures and will annotate as a way of explaining something to someone. Having clear communication is vital for teaching remotely. For students, there is no learning curve required; those who haven't used it before can load SyncSketch up and figure it out almost instantly. It's designed in a way that makes sense to animators and visual effects artists."
"For SyncSketch to give me the ability to draw on images, and then to take that even further by viewing a sequence frame-by-frame, would've been enough. But SyncSketch also allows myself and other course leads to have ghosting layers on top of the frames and a range of other features that are ideal for the way we operate. It's really a great fit."
Reimagining Teacher Workflows
Reviewing multiple interpretations of a project brief can be time-consuming for a teacher. However, with SyncSketch, CAVE Academy has been able to cut down the number of required reviews. Multiple tutors can feed into a session at the same time, giving a personalised and interactive learning experience for the student.
"I don't really want to go back to the days of taking a screen grab, taking it into Photoshop and then putting the image into a text chat – it's very time-consuming and clumsy. One of my favourite things about SyncSketch is that multiple people can do things at the same time. It's a far more fluid teaching experience. We run the CAVE Dailies sessions with four tutors who all annotate and give live feedback. This process used to be a constant back and forth with screen sharing over Zoom to share notes/files. We don't have that problem anymore: it's just one session, everyone has access to it, and everyone can critique as a group."

Bringing More Insightful Courses to the Industry
The pandemic hasn't slowed down CAVE Academy. The education house looks to introduce more courses to both students and practitioners looking to hone their creative skills.
"Around 80% of our courses are internal CAVE projects based on real-world projects. That's content that we create from our own industry experiences and which is based around building scripts, storyboards and animatics. It takes some time to create all that content, but it gives students the closest experience they can have to working in the industry. It is all story-driven."
"The next two years are going to be really exciting for us. On top of building more course content, we will be hosting more 'CAVE Dailies' sessions and presenting a range of masterclass sessions and panel discussions. This will include tools and technique sessions, as well as panel discussions revolving around topics such as diversity and mental health in the industry. I think the soon to be released SyncSketch '3D model viewer' feature will be the ideal solution for our upcoming masterclasses and courses."
CAVE Academy has a range of courses for visual effects artists and animators at all skill levels. If you're looking to learn something new or simply to sharpen your skills make sure you check them.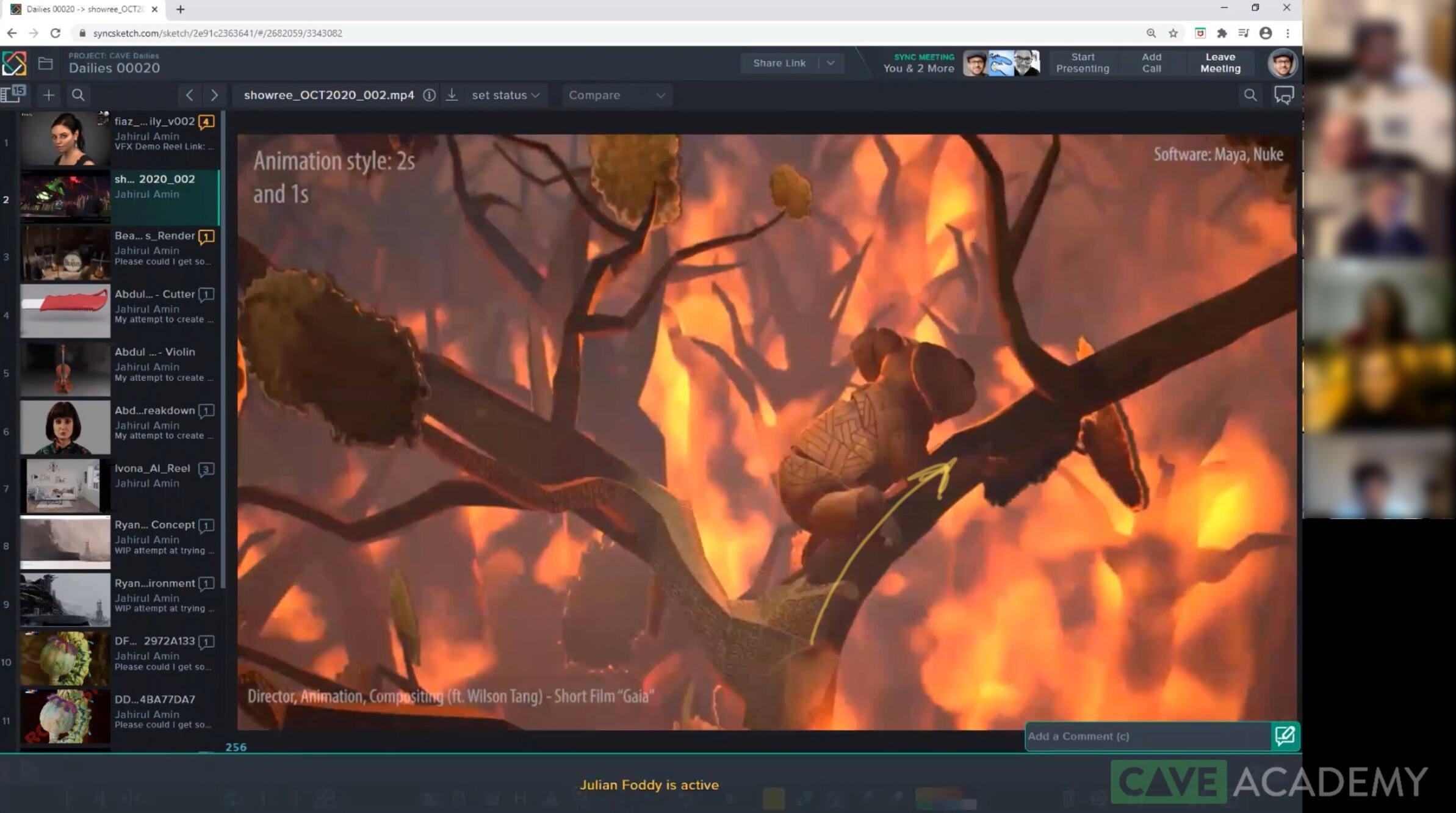 Thanks to CAVE Academy for contributing to this article.