Frontier Developments specializes in creating immersive and fun gameplay designs, prioritizing artistic quality, cutting-edge technology, and expert talent to get the most out of hardware and UI. This leading studio has established a uniquely diverse catalog of innovative and exciting projects that defined genres and earned critical acclaim across today's latest gaming platforms.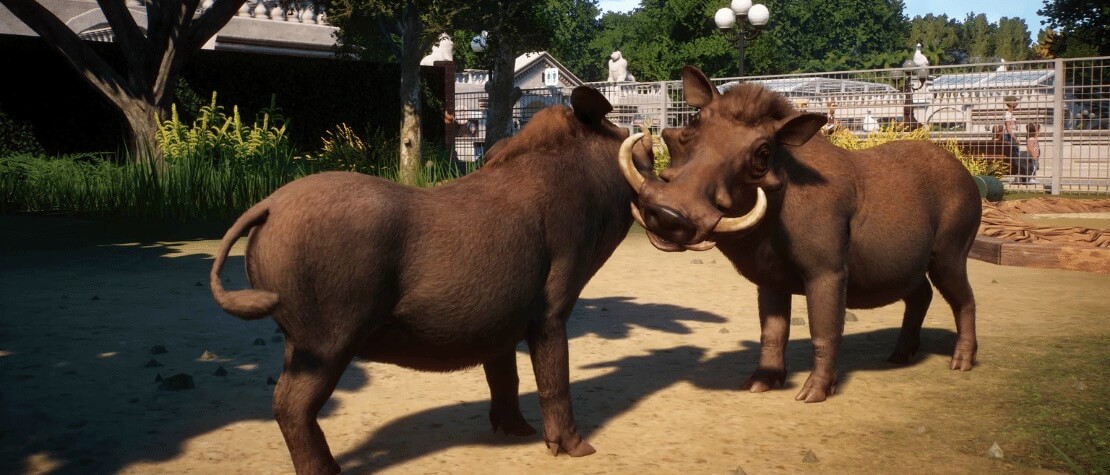 Challenge
As was the case for many businesses in 2020, Frontier had to quickly transition to a remote working setup. The team was looking for a way to replicate the in-person review and approval process that they had fine-tuned over nearly three decades of operating. Maintaining effective communication between a remote team became a distinct challenge as the collaborative work their animators do requires frame-accurate, instant feedback – no easy feat in a remote setting.

In addition, the teams also had to deal with lagging home wifi connections that severely limited the ability to share screens or quickly transfer large files, slowing down their previously efficient workflow model. Due to the necessary increase in file transfers, security also became a concern, especially when inviting external collaborators and vendors to work on projects.

"What we're doing increasingly is working with external teams in China, India, America, and others. We needed a way to share work backward and forwards very quickly. Being able to give all of our feedback to an outsourced studio exported into a single PDF attachment is a great help for everyone involved. It doesn't matter where in the world we are, we can just send a link, people can access it and it's secure," says Nick Rodgers, Head of Animation at Frontier.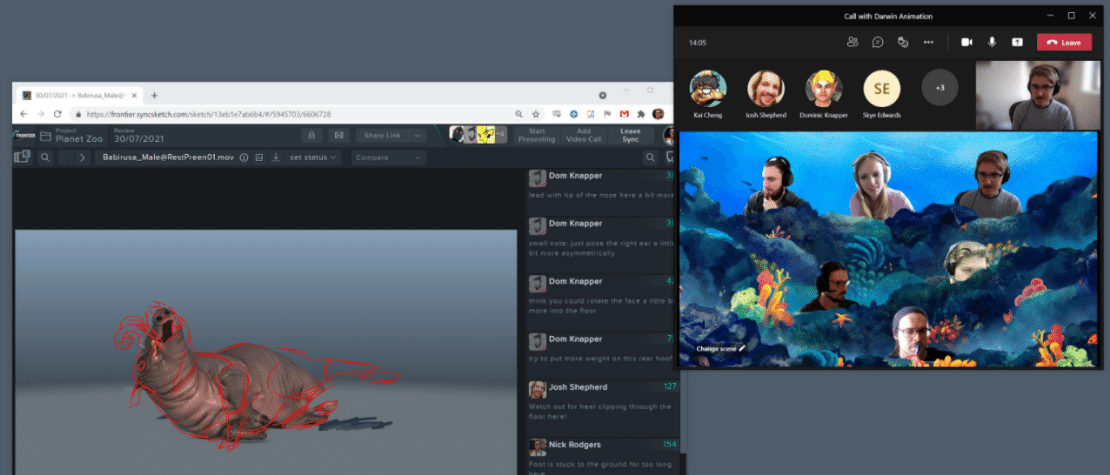 Solution
The team at SyncSketch worked with Frontier to create a bespoke solution that could enable their Animation Team to stay on top of their pipeline, devising a new workflow that was efficient, secure, and wouldn't disrupt their day to day activities. Frontier ended up implementing the Enterprise version of Syncsketch. The intuitive plug-and-play feature was able to replace the previously established in-person routines to the point that Frontier was able to start using it immediately, with no additional training required.

"Syncsketch is made by animators, for animators. We feel hugely supported and listened to by the team when we offer feedback on the tool – it's nice to know our voice matters! On the practical side, it's completely secure and it's got all the animator-friendly tools we could hope for. The synchronized view felt like it was built for our ever-growing team," remarks Rodgers.
SyncSketch supplied a powerful set of tools to suit the animators' needs, boasting a synchronized view feature that ensured frame-by-frame accuracy on all participants' screens during review sessions. When paired with the annotating tools that were intentionally designed with artists in mind, it enabled the users to write and draw notes directly onto the frames for immediate feedback. A hands-on onboarding process eased the growing pains that are usually associated with transitioning to new technology, and the flexible API of the new system integrated seamlessly with the tools the team was already using, such as Maya, Shotgrid, and Unity.

Within the SyncSketch platform, there is also a centralized place for reviewing and collaboration to take place, and the support of the drag and drop of multiple file types and codecs meant that Frontier was ready to work immediately. The customizable URLs with fine-grained permissions enabled secure sharing and collaboration on projects with external studios which resolved one of the biggest sticking points within the industry: off-site security.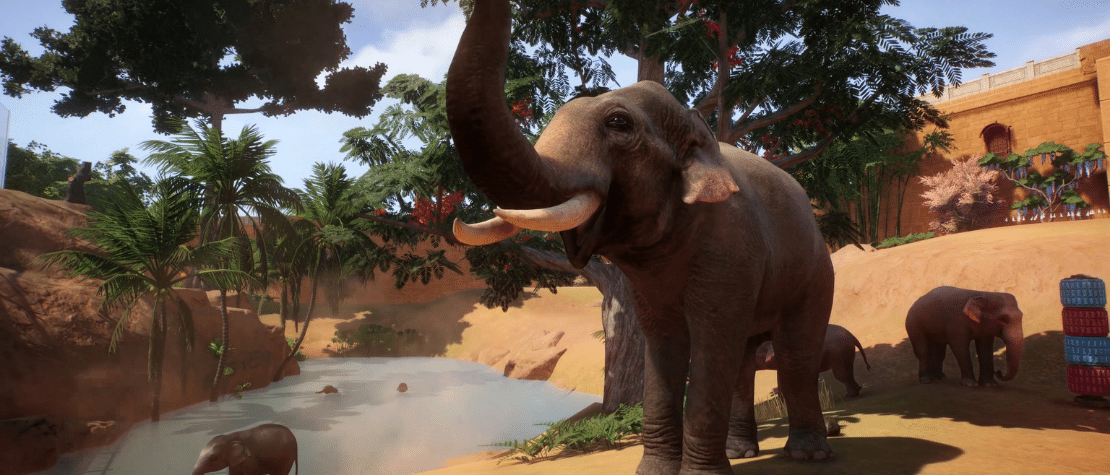 Benefits
Not only did Syncsketch render the team's existing remote workflow obsolete, but it also improved upon it, making instant feedback and secure ways of sharing possible even while working from home. Thanks to this workflow, all of their projects were able to stay on schedule. The first round of feedback from the team was largely positive, with several members noting the speed and simplicity of the platform, especially when it came to giving feedback.

"It makes all the feedback that we're sending out very clear," notes Rodgers. "It's saved us a lot of time, particularly because we don't have to move huge files around, and then trying to get everyone on the same page about what we're looking at. It just removes that whole process."

The high level of accuracy when it comes to live playbacks reassured the team that everyone was looking at the same frame at the same time which significantly improved efficiency and ease of collaboration. Moreover, the accurate, reliable, and detailed feedback resulted in fewer iterations overall. Since it's a cloud-based solution, at-home wifi has been more than capable of running the web app smoothly, eliminating lagging and latency issues that were experienced previously.

The centralized platform made for clearer task management, as everything was stored in one place, so internal processes became faster, freeing up staff to concentrate on what they love doing: animation and other creative work. Some features, like the FBX imprinting pipeline, were a true game-changer for them, and they expect it to become a staple in their workflow as they explore its further uses to get the most out of it.

"We're saving serious amounts of time every week and exploring some of SyncSketch's more unique features as we get to know it better. Being able to jump on a call and look at the same shot together is fundamental, it's irreplaceable and we couldn't imagine working without SyncSketch." – explains Nick.

"Syncsketch is made by animators, for animators. We feel hugely supported and listened to by the team when we offer feedback, it's nice to know our voice matters. We're saving serious amounts of time every week, and making more use of really clever features as we get to know it better. Being able to jump on a call and look at the same thing together is fundamental, it's irreplaceable and I couldn't imagine doing without it."




Nick Rodgers, Head of Animation at Frontier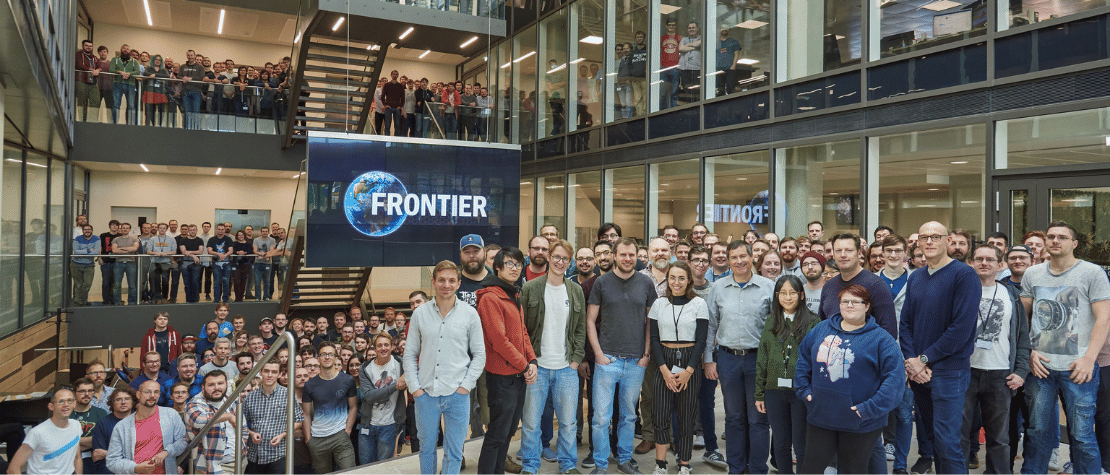 Results
By adopting SyncSketch, Frontier was able to meet their existing deadlines and project milestones during the turbulent transition to remote working and the interruption to their established processes. More than that, the team was able to drive projects forward faster than before.

The time required for successful review sessions decreased by at least 25%, freeing up animators to focus more on the creative side of their work. The faster approval process, which extended to senior management and clients as well, optimized the overall review process even further. Clarity and efficiency improved across teams, enabling better collaboration between departments and smaller units.

Following the implementation of SyncSketch, the problem of continuous file sharing has been eliminated so the security concerns surrounding remote working have reduced considerably, enabling the company to work confidently with external collaborators, as well as across in-house teams. Moreover, the business has seen significant cost savings in comparison to working with external vendors. As a result, Frontier has decided to turn the use of Syncsketch into a permanent feature of their workflow, regardless of remote working restrictions.

---
Discover how others are utilizing SyncSketch on our blog.