About
Season 2 of Raised by Wolves, a sci-fi drama produced by Ridley Scott and Scott Free Productions, has received critical acclaim for its stellar imagery and otherworldly visual effects. The futuristic series, streaming on HBO Max, has a high bar for visual quality. Alien worlds, visionary technology, and strikingly human-like androids set the stage for a very real exploration of the mysteries of human existence. Photorealistic visual effects blend seamlessly into the filming to keep the emphasis on storytelling rather than spectacle. The show's visual effects supervisor, Ray McIntyre Jr., is an award-winning veteran of films ranging from the sci-fi thriller Looper, to the horror mystery The Conjuring, and the historical, character-driven Green Book.
Challenge
When production began on season 2 of Ridley Scott's HBO Max series Raised by Wolves, McIntyre needed to collaborate with a geographically dispersed team to complete nearly 3,000 complex visual-effects shots at the fast pace of episodic television. To create and communicate with 14 vendors around the world, along with HBO execs and representatives of Scott Free Productions, McIntyre needed to upgrade from their legacy tool for synchronized review to accommodate the scale and speed required for the effects-intensive project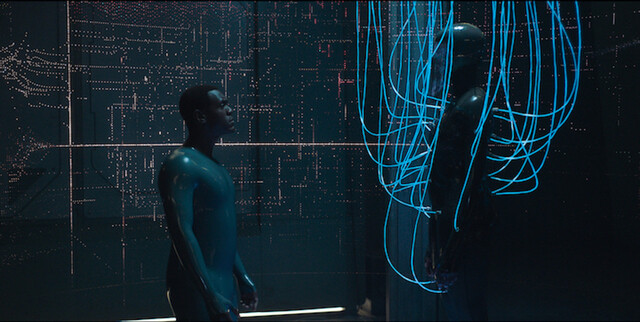 Solution

After a search, McIntyre discovered SyncSketch. A quick trial convinced him that the tool would be simple and easy, and he rolled it out to executives, vendors, and others involved in the production. Soon, SyncSketch became the only tool Raised by Wolves was using for review, which provided several benefits.
1. SyncSketch makes it easy to work with anyone, anywhere
When the pandemic hit during season one of Raised by Wolves, remote work posed new challenges. Many of the creative vendors McIntyre works with were already accustomed to using a synchronized review tool, which required them to send media and a list of shots ahead of time, tweak playlists for last-minute changes, and review to be sure file names sync up. Though the process could be cumbersome, it was at least familiar. For the rest of the production organization, however, adapting to this method of working was not just clumsy, it was a major obstacle.

"That's what brought me to SyncSketch," said McIntyre. "To finish season 1, we spent a lot of time downloading and making sure things were in the right place on someone's computer to work with studio executives and Scott Free. I wanted something bulletproof and easy to use, and SyncSketch provided that."

Getting the production's various partners started with SyncSketch proved to be simple—just click a link and get started, no matter the level of expertise. McIntyre or anyone else on the team can upload files instantly with a simple drag-and-drop, then share with anyone to review together in real-time. "Let's say a marketing person is waiting to get a particular shot to add to a campaign. Our prior review tool would be totally foreign to that person, but SyncSketch has made it simple to share with anyone," McIntyre said.

2. Seamless workflows keep quality high and delivery on schedule
Raised by Wolves completely replaced its legacy tool with SyncSketch, using it throughout the VFX production pipeline, from pre- to post-production.

"The biggest challenge on Raised by Wolves is simply its scale and scope," McIntyre said. "We have far less time to complete the work compared to other projects, yet we have huge amounts of work—and it's not just minor stuff, there's complete replacement of environments and characters. SyncSketch saves us precious time when we're reviewing with vendors, which makes a difference when we need to hit each deadline."

In a production with so many moving parts, being able to work without limits is key to staying on track. For example, other tools for synchronized review set a limit on the number of simultaneous users, which can delay the review process. On a large production with multiple stakeholders, that can lead to a lot of waiting. SyncSketch allows a production to conduct an unlimited number of reviews, with an unlimited number of people, even during simultaneous review sessions.

Instant playback also allows flexibility in reviews. "When we're in the middle of a review and realize that we need to review something else, we don't have to wait to get everyone on the same page. We simply drag it into SyncSketch, and it appears there for everybody. That's been a powerful function, and it gives us one less thing to worry about," McIntyre said.

That freedom doesn't come at the expense of security. Even a large production like Raised by Wolves can ensure intellectual property is protected through strict user authentication processes, fine-grained user roles, extensive logging, and alignment with MPAA best practices and ISO 270001 standards.

3. By-artists, for-artists tools enable creativity while working remotely or on set
The 3D Model Viewer in SyncSketch makes it easy to collaborate on a 360-degree review of a shot or sequence and capture feedback right in the platform. Since starting with SyncSketch, McIntyre has found it useful working both on set and remotely —even on the beach!

"When we were shooting in South Africa, I captured drone photogrammetry scans of virtually every environment," McIntyre said. "Once those models were made, I could pop them onto SyncSketch whenever I needed to explain something, like pointing out something that's not visible or where something needs to go on set. I could rotate it around and show them exactly what I was talking about, from every angle."

SyncSketch's 3D Model Viewer and powerful brush engine draw their design from the engaged feedback of artists, so the tools keep creativity in the foreground while the technology is nearly invisible. McIntyre and the Raised by Wolves team use the brushes for annotation during review sessions and highlighting the shots to discuss.

"We have hundreds of shots per episode, so I don't go through every single shot in a review with the creative team," McIntyre said. "I use a brush to make a quick X on the shots I want to be sure they're happy with and use the keyboard to jump immediately to the things I want to highlight. That's a huge time saver—I don't have to go by timecode or scrub to find the frames I want to review."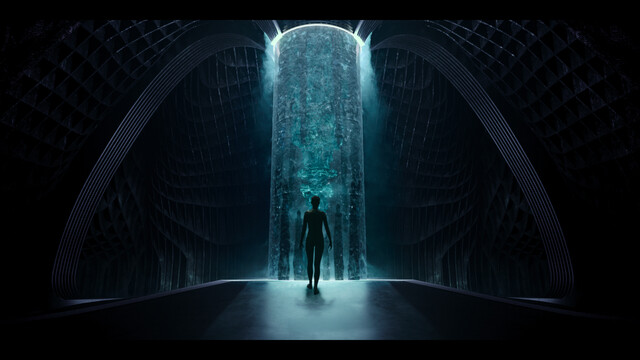 ---
Last words

While McIntyre sought out SyncSketch to solve a specific problem, he's sold on using it for future projects. "I definitely plan to continue with SyncSketch. Especially with more people working remotely and across geographic boundaries, it's much easier to put something on the server and invite everybody to join. That's really the bottom line. So SyncSketch is a tool I will continue to use," he said.