If you're anything like us, you keep your ducks in a very neat row (sorted by color, then alphabetized by name). Your inner organizer will be pleased to meet Media Tab, the new feature that takes media management to the next level.

Located in the Project Overview page (just next to the Review tab), Media Tab enables filtering, grouping, sorting, and previewing content. It also allows batch operations like copying, moving, deleting, and changing approval status.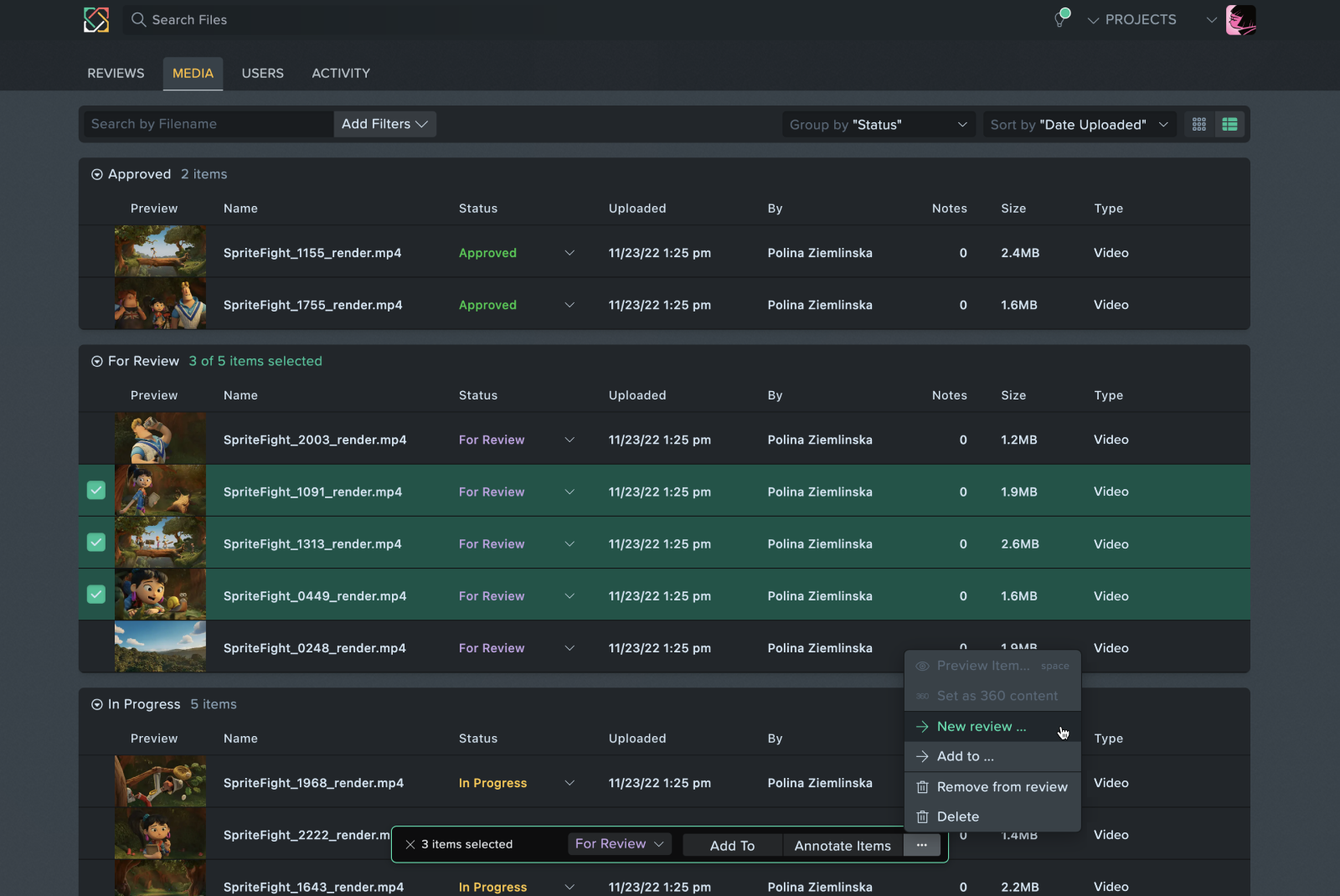 But that's not all. With Media Tab, you can also launch Quick Annotations and see notes written across multiple reviews. Let's speed that feedback cycle up, shall we? If learning a new feature seems intimidating, don't fret – check out our release notes and FAQ or watch the video tutorial by our very own Victoria Grey, Senior Technical Product Manager.
Quick Annotations and All Notes Panel also debut in this action-packed update!
You might be wondering just what a Quick Annotation is and how it's going to streamline your feedback cycle. It's simple: you can now take notes against items without having to create a review first. This saves time when you want to make a quick, ad-hoc review and enables you to share a direct link to the annotations.
The last ingredient in the speedy feedback recipe is the All Notes Panel. This handy dropdown is found at the top of the comments panel inside the player. It enables you to see notes across reviews as well as sort the comments by either date or frame number.
Stay in the (feedback) loop

The latest update for SyncSketch brings some amazing new features and quality of life upgrades. Never miss a new release! Follow us on Facebook, Instagram, Twitter, or LinkedIn to get the latest and greatest in SyncSketch and industry news.

Look for these new features in SyncSketch Team and Enterprise. If you're on the Light or Indie plan, give Team a try with a free 14-day trial.

Have feedback or questions? Your input is important to us! Our roadmap and planned improvements are heavily influenced by what our community wants or needs to do their very best work.