Kuku Studios are a California-based animation house with a core goal to tell stories that are enriching, engaging, and timeless. Their introductory project Go! Go! Cory Carson (GGCC) is an amusing take on the everyday-ness of childhood adventures and was an immediate success, streaming on Netflix.
Challenge
Prior to embarking on GGCC, the team had worked with various remote collaboration tools that were inflexible and awkward, falling more into the category of 'hindrance' than 'helper'. From the onset, the series producers were keen to source a fluid, intuitive and perceptive tool that would outperform more familiar ones they had worked with in the past and streamline their workflow. The team prioritized a coherent interface that intelligently worked with other tools, whilst being conscious of the internal review process, all of which SyncSketch offered.
Tim Hahn, GGCC producer, comments, "There were certain 'go-to' collaboration tools that had a lot of the clumsiness of an enterprise solution. These tools required a level of support, preparation, and pre-uploading of files to the server in order to be used effectively. Lean startups struggle to keep up with these kinds of demands. SyncSketch was the perfect blend of efficiency and fluidity that we needed."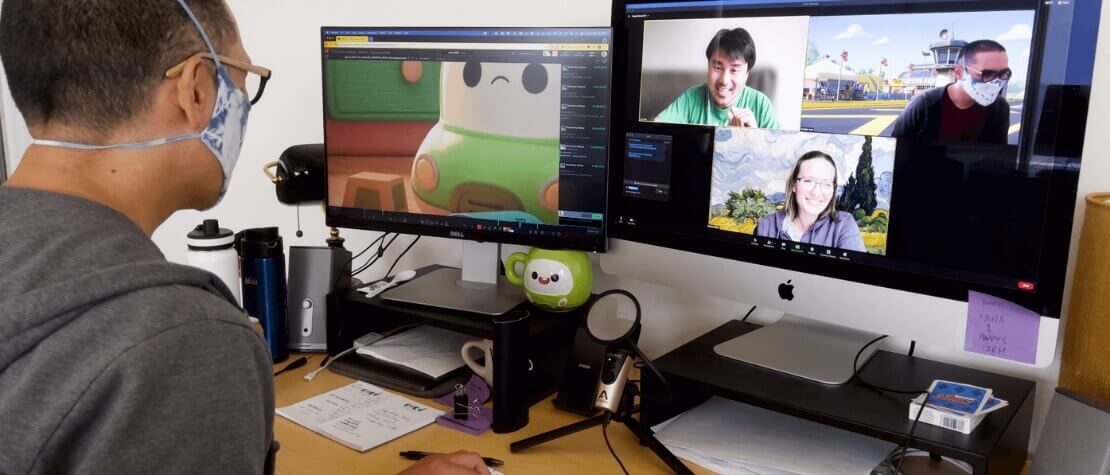 Solution
Having integrated the tool into their workflow, the Kuku team began reaping the full benefits of what SyncSketch offers. Because SyncSketch operates on a web server as opposed to hardware, it eliminates the need for content storage in multiple locations on multiple devices, affording more agility. With a nine-hour time difference, this storage efficiency was a huge win when communicating with their France-based production partner.
"When it came to remote synchronous reviews, setup would take at least an hour ensuring all parties were prepared with the necessary materials – a challenge fitting it into the workday accounting for time zones. With SyncSketch it takes minutes to set up a review," said Production Manager Rosemary Reese.
The synchronicity of Presentation Mode allowed directors and producers of GGCC to interact and review work in real-time despite the hindrance of geography, saving the studio money and time on international travel.
"From abroad, our directors would record themselves going through SyncSketch and add notes at the various time codes. During draw overs, they'd call issues out in the moment instead of hours later. We could send that file over to our partners and they would have a document of our animations, saving us a significant amount of money and flights to Paris," said GGCC producer, Freddie Sulit.
Protecting internal comms during the review process, SyncSketch's features allow studios to share thoughts internally before sharing externally and intuitively integrates with other platforms for a more seamless user experience.
"Other review tools largely operated in a one-way system – once you wrote a note you were committing to sending that to the vendor. SyncSketch is a great place for us to collect our thoughts first before making the more final step of communicating via a client review tool," GGCC producer, Tim Hahn mentions.
Impact
By incorporating SyncSketch into their workflow, Kuku studios were unhindered by geography, able to communicate effectively with their international vendor, and saved significantly on time and money, freeing up creative real estate to deliver the content they are passionate about.
In addition, the production team utilizes SyncSketch as a means of gauging KPIs, quantifying progress by recording the increase or decrease of notes as a direct reflection of a department's performance as part of their growth strategy.
"We tabulate the cumulative notes to track how our review cycles are going and evaluate whether something has changed about a review or an asset. We look at trends and identify the types of environments that get more notes, and discuss how to adjust and prepare moving forward," Reese said.
From the start of production, Kuku Studios has relied on SyncSketch as their primary animation review tool, creating over 600 minutes of high-quality content over production seasons one and two on the platform. Setting out on another season of GGCC, Kuku Studios is eager to continue using SyncSketch.
Sulit comments, "SyncSketch is the ultimate collaboration tool for whatever you can dream of. When you're a studio the size of ours, you only have space for what adds value, SyncSketch is that tool for us. It's hit multiple solution targets and has become a pillar in our workflow. It was very much a part of our team culture too. We ended up using the synchronous review feature as a way to celebrate each completed episode with a watch party when the team were all working remotely. We couldn't recommend it enough."
Read our blog for more User Stories and check out the Season 4 trailer of Go! Go! Cory Carson here.